Six Senses Con Dao Wins Top Spot in 2021 TripAdvisor Travelers' Choice Best of the Best Awards for Most Romantic Resort
Six Senses Con Dao Recognized Among Best in the World Based on Exceptional Traveler Reviews
Con Dao – May 17, 2021 – Six Senses Con Dao has won the 2021 Travelers' Choice Best of the Best Award for Most Romantic Resort. Throughout a challenging year, Six Senses Con Dao stood out to travelers in providing an authentic experience centered around well-being and meaningful reconnection with themselves and the world around them.
"Looking back on the past year, some of the many enhancements we made included upgrading the resort organic gardens, developing the additional "Hideaway Beach" to complement our existing 2KM of golden sands, caring for our staff and community, enriching the turtle incubation center and committing to plastic free. We are thrilled that combining these efforts has led to the recognition of Six Senses Con Dao as a 2021 Travelers' Choice Best of the Best Award Winner, being voted the "Number 1 Most Romantic Resort" and placing us in the top 1% of hotels worldwide.  We love to read the words "perfection" and "exceptional service" from our guests' reviews after their stay." said Marisa Fernandes, General Manager of Six Senses Con Dao
"We, at Six Senses Con Dao have a strong commitment to exclusivity and sustainability that allows us to deliver even more out-of-ordinary experiences to our guests. We have a fantastic and enthusiastic team, catering to the guests' needs, especially couples who are seeking wellness, and families looking for quality time.  Our 2 beaches, Six Senses Spa and Chefs table together with 50 eco-luxe free-standing pool villas only adds to the magic that Con Dao islands are blessed with."
"Congratulations to all the winners of the 2021 Travelers' Choice Awards," said Kanika Soni, Chief Commercial Officer at TripAdvisor. "I know the past year has been extremely challenging for tourism businesses. What has impressed me is how Six Senses Con Dao adapted to these challenges, implementing new cleanliness measures, adding social distancing guidelines, and utilizing technology to prioritize guest safety. The Travelers' Choice Awards highlight the places that delighted guests more than any others in the past year even as they navigated changing customer expectations and new ways of working. Based on a full year of reviews from customers who visited, this award speaks to the exemplary service and experience you provided guests in the midst of a pandemic."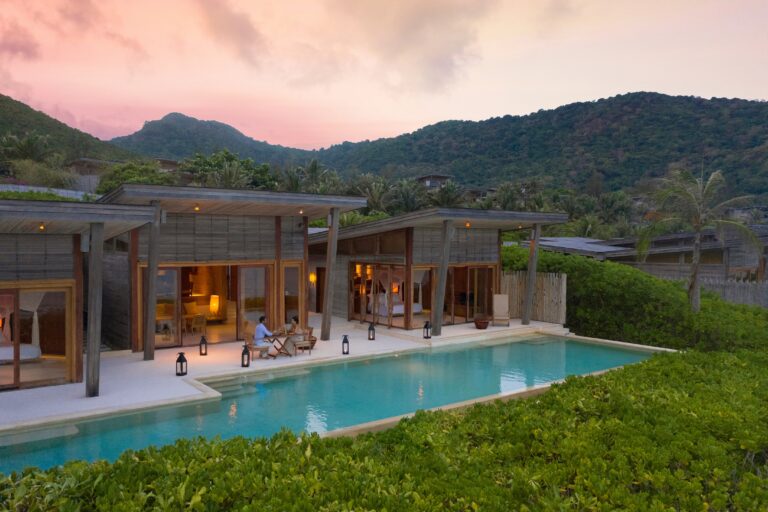 About Six Senses Con Dao
Situated along a mile of golden sand, looking out to the sapphire sea and the curve of the bay, Six Senses Con Dao is contemporary in design and embraces the essence of a traditional fishing village. 50 villas and residences offer generous personal space, lush tropical vegetation, and spectacular ocean vistas plus their own private rim-flow swimming pools. There are choices of one, three and four-bedroom configurations with a with a host of activities on hand, from water sports, boat tours to hiking, discovering nature and on occasion experiencing turtle hatchlings. Six Senses Spa Con Dao offers a wide range of holistic wellness, Yogic programs, and locally inspired beauty treatments together with an extensive menu of signature therapies to enhance every guest's experience.

Six Senses Hotels Resorts Spas manages 17 hotels and resorts and 26 spas in 20 countries under the brand names Six Senses, Evason and Six Senses Spas, and has signed a further 30 properties into the development pipeline. Six Senses is part of the IHG Hotels & Resorts family.
Six Senses Hotels and Resorts: a leadership commitment to community, sustainability, emotional hospitality, wellness and design, infused with a touch of quirkiness. Whether an exquisite island resort, mountain retreat or urban hotel, the vision remains the same: to reawaken people's senses so they feel the purpose behind their travels and ultimately reconnect with themselves, others and the world around them.
Six Senses Spas: a wide range of holistic wellness, rejuvenation and beauty treatments administered under the guidance of expert therapists in all resorts as well as at 10 additional standalone spas. The high-tech and high-touch approach guides guests on their personal path to well-being, taking them as deep as they want to go.
Six Senses Residences: indulgent living as nature intended, providing all the unique amenities of a resort life community, while retaining the intimacy and personal touches of a beautifully-appointed private villa or apartment. Each is an appreciating long-term investment to be cherished for generations to come with immediate benefits including fine dining, pioneering wellness programming and exclusive status at other resorts worldwide.
Evason: a strong value focus with a vast array of personal guest experiences that the whole family will love, while sharing the Six Senses philosophy of uncompromised social and environmental responsibility.

About Tripadvisor
Tripadvisor, the world's largest travel platform*, helps hundreds of millions of travelers each month** make every trip their best trip. Travelers across the globe use the Tripadvisor site and app to browse more than 878 million reviews and opinions of 8.8 million accommodations, restaurants, experiences, airlines and cruises. Whether planning or on a trip, travelers turn to Tripadvisor to compare low prices on hotels, flights and cruises, book popular tours and attractions, as well as reserve tables at great restaurants. Tripadvisor, the ultimate travel companion, is available in 49 markets and 28 languages.
For further information, please contact:
Marketing Communications Manager
Six Senses Con Dao
T + 84 28 3823 2229
E marketing-condao@sixsenses.com