Six Senses Con Dao Takes The Lead In The Protection Of Endangered Green Sea Turtles
For the past 3 years, Six Senses Con Dao, in collaberation with the Con Dao National Park  has been the proud care-taker of  132 nests, releasing  6,793 critically endangered newly hatched green sea turtles into the ocean.
With an above average hatching rate of 75%, it represents the strong commitment that Six Senses Con Dao has in the conservation of these precious species.
Thanks to mother nature's sweet favor, Con Dao island is the perfect choice for a mama sea turtle to nest.
Comprising of 16 mostly uninhabited islands and islets, more than 80 percent of the land area is national park, offering a sublime and magnificent landscape that is well-preserved and protected.
The process is entirely as nature intended; the mama sea turtle instinctively searches for a peaceful, secluded beach to nest, almost untouched by human hands. After creating the perfect nest, by digging a small hollow with her hind legs, the eggs are deposited and she will return to the sea, leaving them to develop on their own.
Having realized the potential harm from the outside environment that the turtles face, Six Sense Con Dao restored its beach to optimize egg laying for the green turtles and help decrease the mortality rate of turtle hatchlings.
Since the temperature of the sand in which the eggs are nesting plays a key role in deciding the gender of a turtle egg, influencing the hatchling performance the resort's incubation is believed to provide the best nesting condition allowing temperatures to be controlled and adjusted, using completely natural techniques with a skilled team of care-takers trained in conservation. Hence, a higher survival ratio and above average hatching rate.
Join us during the nesting season, and you could witness this life changing event yourself!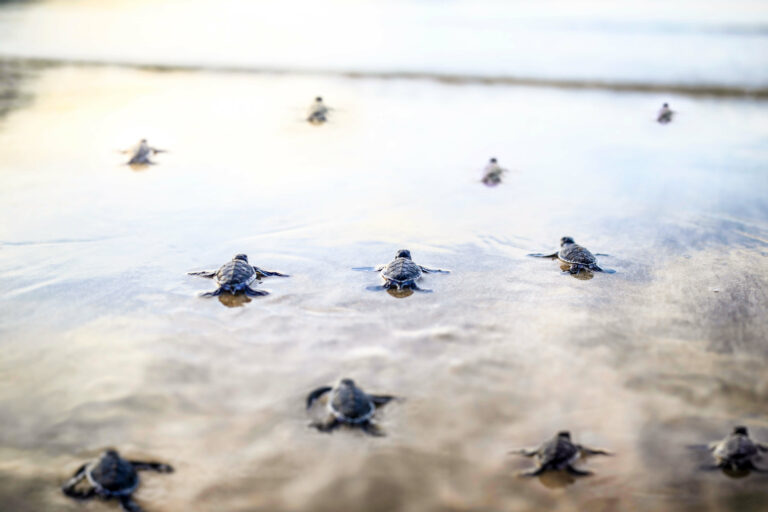 About Six Senses Hotels Resorts Spas
Six Senses Hotels Resorts Spas is one of the world's leading operators of luxury hotels, resorts and spas, managing 18 hotels and resorts across 14 countries, plus 37 spas under the brand names Six Senses, Evason, Six Senses Spas and Raison d'Etre. There are a further 17 hotels and resorts signed into its development pipeline. In February 2019, Six Senses became part of the IHG® (InterContinental Hotels Group) family of hotel brands.
Six Senses properties share a leadership commitment to community, sustainability, wellness and design, infused with a touch of quirkiness. Whether an exquisite island resort, mountain retreat or urban hotel, the enduring purpose is to help people reconnect with themselves, others and the world around them.
Six Senses Spas offers a wide range of holistic wellness, rejuvenation and beauty treatments administered under the guidance of expert therapists in all resorts as well as at 16 additional standalone spas. The high-tech and high-touch approach guides guests on their personal path to well-being, taking them as deep as they want to go.
Six Senses Residences provides the best life has to offer. From beautifully-appointed villas on the beach, rustic chalets in the mountains and spacious urban hideaways, Six Senses features a variety of residential choices in stand-alone buildings or attached to a resort or hotel. No matter the location, the promise remains the same and the commitment to create a community where every day revolves around learning and growing, great food and drink, innovative wellness programming, sustainable living – all mixed in with a lot fun.
Evason follows the Six Senses philosophy of uncompromised responsibility to sustainability and the community. Its two unique resorts provide a strong value focus, while offering a vast array of personal guest experiences that the whole family will love.
For further information, please contact:
Băng Trần (Ms Harmony)
Marketing Communications Manager
Six Senses Con Dao
T +84 254 3831 222
M +84 903 17 9990
E marketing-condao@sixsenses.com