In the exclusive island paradise of Con Dao, rests the luxury retreat of Six Senses Con Dao, a perfect destination to unwind after the up's and down's of 2020.
Together with untouched and breath-taking scenery, the eco-friendly resort pulls in guests with its award-winning spa, wellness-infused therapies and enriching sustainable activities. It's time to hit the pause button, reconnect to your soul and the world around you.
Looking out at the curve of the turquoise bay, sheltered among a green forest of Lo Voi Mountain, the hidden paradise is just a 45 minutes flight from Ho Chi Minh City or 2 hours from Ha Noi, Hai Phong, Vinh, yet it can make you feel like you are worlds away. This season, Six Senses Con Dao invites you to come away on a journey of "Wellness Retreat", to rebalance and reenergize your mind, body, and soul on a 2-night stay of personalized wellness therapies.
Arriving at Six Senses Con Dao, you will be welcomed by our expert Ayurveda practitioner, who will guide you to listen to the needs of your mind and body, and see what's missing within; thus begins the journey of restoration.
Over the course of two days, take time to reconnect as you and loved ones enjoy the Holistic Therapy and Indian Head Massage from our skilled therapists. Discover Yogic Sleep, a practice that combines a number of gentle stretching yoga poses, to enhance your nervous system, reduce stress levels and encourage restorative sleep. As you reach the deepest level of tranquility through the private guided meditation session, your body and mind will develop more strength, flexibility and mental clarity, thus reward the soul with an absolute sense of inner peace.
Your wellness retreat ends with the "Singing Bowl Therapy", a unique soul healing session to remove any tension and balance your inner energy. The singing bowl gives off vibrations that carry a rich deep tone when played, producing a soundwave that clear the minds, free up negative energy so jubilation can take over, getting you ready for an array of exciting beach activities.
A variety of non-motorized water sports are set ready for you to dive in, both on the water and in the ocean, such as beach volleyball, paddle board and kayaking. You and your loved ones can bond through a number of Earth Lab workshops, where you can make your own coconut oil or learn about the Resort's organic vegetable gardens and have a sense of laughter, feeding the free-range chickens!
Your two-night stay in an exclusive Villa with an ocean view infinity pool, is most calming place for restfulness, under the stars with the sound of the waves and waking up to a sun-drenched sky, before a bountiful fresh organic breakfast in By the Beach restaurant.
Six Senses Con Dao "Wellness Retreat" is the perfect remedy to end the year, you may find yourself totally anew, with better mood and emotional control and a great sense of connection with your inner self.
Visit our website to find out more about the offer: www.sixsensescondao.com/offers/wellness-retreat/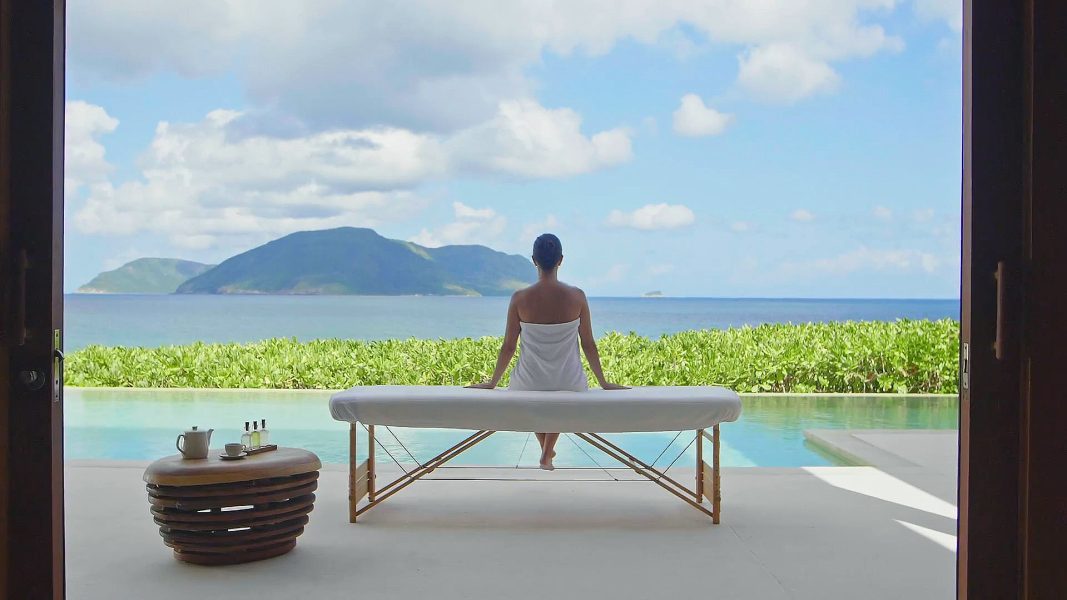 About Six Senses Hotels Resorts Spas
Six Senses Hotels Resorts Spas is one of the world's leading operators of luxury hotels, resorts and spas, managing 18 hotels and resorts across 14 countries, plus 37 spas under the brand names Six Senses, Evason, Six Senses Spas and Raison d'Etre. There are a further 17 hotels and resorts signed into its development pipeline. In February 2019, Six Senses became part of the IHG® (InterContinental Hotels Group) family of hotel brands.
Six Senses properties share a leadership commitment to community, sustainability, wellness and design, infused with a touch of quirkiness. Whether an exquisite island resort, mountain retreat or urban hotel, the enduring purpose is to help people reconnect with themselves, others and the world around them.
Six Senses Spas offers a wide range of holistic wellness, rejuvenation and beauty treatments administered under the guidance of expert therapists in all resorts as well as at 16 additional standalone spas. The high-tech and high-touch approach guides guests on their personal path to well-being, taking them as deep as they want to go.
Six Senses Residences provides the best life has to offer. From beautifully-appointed villas on the beach, rustic chalets in the mountains and spacious urban hideaways, Six Senses features a variety of residential choices in stand-alone buildings or attached to a resort or hotel. No matter the location, the promise remains the same and the commitment to create a community where every day revolves around learning and growing, great food and drink, innovative wellness programming, sustainable living – all mixed in with a lot fun.
Evason follows the Six Senses philosophy of uncompromised responsibility to sustainability and the community. Its two unique resorts provide a strong value focus, while offering a vast array of personal guest experiences that the whole family will love.
For further information, please contact:
Băng Trần (Ms Harmony)
Marketing Communications Manager
Six Senses Con Dao
T +84 254 3831 222
M +84 903 17 9990
E marketing-condao@sixsenses.com