Evoke the Sense of Tet 2021
Con Dao, Vietnam – January 2021: Six Senses Con Dao prepares to bid farewell to the Year of the Rat and welcome in the Year of the Ox with hopeful greetings. A teeming host of activities are ready for those looking for an exclusive tropical island resort to spend the very first days of the new Lunar Year with families and loved ones.
Start the day by hopping on the speedboat and set sail to some of the most stunning snorkel spots with colorful coral reefs around Con Dao or grab a fishing rod and showcase your reeling skills. For those that prefer a little morning stretching, the yoga classes offer several exercises that fill up energy for the whole day and allow a photo opportunity of that perfect yoga pose for Instagram. Others can just laze around and relax on the beach or by their private villa pool, basking in the first sunshine of the Lunar New Year.
Children will enjoy a variety of complimentary workshops, such as creating art from tree leaves to making traditional face masks with recycled paper, which not only helps them develop a sense of love for nature, but also guarantees fun for all. For adults, prepare to be swept off your feet, quite literally, with team sport activities such as volleyball, beach basketball, or kayak and paddle board with the waves. For more serene activities, the Spa awaits with daily meditation & therapy centered around ancient traditions, synonymous to the Six Senses brand.
Guests can end the perfect day at the Happy Tet Hour at Elephant Bar, adding to the dramatic dusk scenery with a refreshing signature cocktail, before settling down under the stars for an iconic Jungle Movie.
On New Year's Eve, join the countdown celebrations in the quaint town of Con Dao, for a firework show and take in many traditional street activities that mark the start of the Year of the Ox on the island.
The Resorts very own Guest Experience Makers are on hand to arrange a join-in or private tour around the island including excursions to the Flower Market, Phi Yen temple, Van Son pagoda and other sacred historical sites for those hoping to pray for health and good fortune for the New Year
Throughout this sacred time, the resort also invites guests to experience an authentic New Year routine with traditional Lion Dance performances, bringing smiles and luck for all the year round.
What would Tet be without its traditional delicacies? Head for the Chefs kitchen where families can create unforgettable moments and enjoy a Bánh Chưng Workshop, one of the traditional dishes of the Tet season. Learn how to assemble the delicious leaf-wrapped pork, sticky rice, and green bean envelopes, and even take home the recipe. On February 14, coinciding with Valentine's Day, Six Senses Con Dao's heralded beach front kitchen comes alive with a lavish Vietnamese BBQ featuring Con Dao's freshest seafood and other traditional Vietnamese dishes for Tet such as Sticky Rice Cake (Bánh Chưng), Pork Stew with Egg (Thịt kho trứng), and whole steamed chicken (Gà hấp nguyên con).
An escape to the pristine Six Senses Con Dao for Lunar New Year offers guests a chance to disconnect from everyday life and reconnect with Mother Nature and enjoy timeless traditions that are remembered for a lifetime.
Let us look back and be grateful for past blessings and look forward to a brighter year together.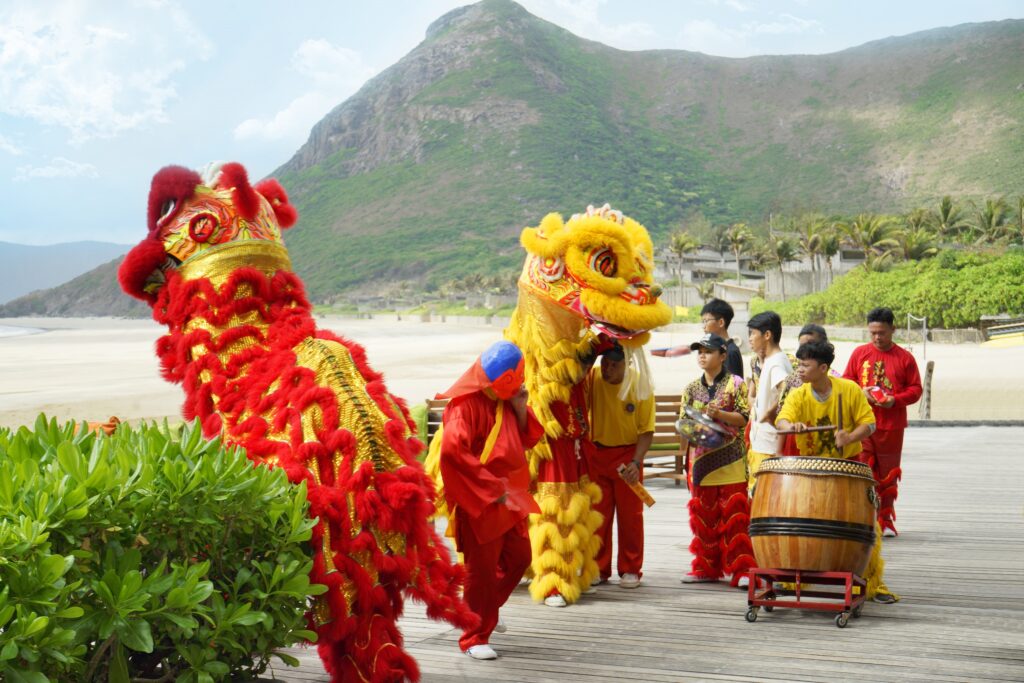 About Six Senses Con Dao
Situated along a mile of golden sand, looking out to the sapphire sea and the curve of the bay, Six Senses Con Dao is contemporary in design and embraces the essence of a traditional fishing village. 50 villas and residences offer generous personal space, lush tropical vegetation, and spectacular ocean vistas plus their own private rim-flow swimming pools. There are choices of one, three and four-bedroom configurations with a with a host of activities on hand, from water sports, boat tours to hiking, discovering nature and on occasion experiencing turtle hatchlings. Six Senses Spa Con Dao offers a wide range of holistic wellness, Yogic programs, and locally inspired beauty treatments together with an extensive menu of signature therapies to enhance every guest's experience.
About Six Senses Hotels Resorts Spas
Six Senses Hotels Resorts Spas manages 16 hotels and resorts and 27 spas in 20 countries under the brand names Six Senses, Evason and Six Senses Spas, and has signed a further 28 properties into the development pipeline. Six Senses is part of the IHG® (InterContinental Hotels Group) family.
Six Senses Hotels and Resorts: a leadership commitment to community, sustainability, emotional hospitality, wellness and design, infused with a touch of quirkiness. Whether an exquisite island resort, mountain retreat or urban hotel, the vision remains the same: to reawaken people's senses so they feel the purpose behind their travels and ultimately reconnect with themselves, others and the world around them.
Six Senses Spas: a wide range of holistic wellness, rejuvenation and beauty treatments administered under the guidance of expert therapists in all resorts as well as at 14 additional standalone spas. The high-tech and high-touch approach guides guests on their personal path to well-being, taking them as deep as they want to go.
Six Senses Residences: indulgent living as nature intended, providing all the unique amenities of a resort life community, while retaining the intimacy and personal touches of a beautifully-appointed private villa or apartment. Each is an appreciating long-term investment to be cherished for generations to come with immediate benefits including fine dining, pioneering wellness programming and exclusive status at other resorts worldwide.
Evason: sharing the Six Senses philosophy of uncompromised social and environmental responsibility. Its two unique resorts provide a strong value focus, while offering a vast array of personal guest experiences that the whole family will love.
For further information, please contact:
Marketing Communications Manager
Six Senses Con Dao
T + 84 28 3823 2229
E marketing-condao@sixsenses.com