Con Dao's Consistent Effort Towards Turtle Conservation Has Been Well-regarded
Con Dao, Vietnam – November 13, 2020, Con Dao National Park has been officially recognized as a member of the Indian Ocean-Southeast Asia (IOSEA)*, becoming the 11th member of the marine turtle conservation international network. The recognition honors great efforts to promote biodiversity conservation from Vietnam's authority, while confirming strong commitment to protect the country's rare species, particularly demonstrated in the turtle conservation in Con Dao region.
Nguyen Khac Pho, director of Con Dao National Park, said conservation efforts require the participation of both scientists and businesses in order to develop ecological tourism in a sustainable manner. Many firms have joined with Con Dao National Park to work together and protect the marine turtle species in an effective manner.
In collaboration with Con Dao National Park, Six Senses Con Dao's own incubation center "Let's Get Cracking" has since been home to many new turtle hatchings, with 2020 seeing a high successful hatching rate, 43 nests delivered to the resort for custodianship and over 2,095 turtles successfully hatching and released to the ocean. For the past 3 years, there have been 173 nests with 7,860 critically endangered newly hatched green sea turtles. With an average hatching rate of 80%, it represents the careful and consistent effort that Six Senses Con Dao has in the conservation of these precious species.
Six Senses Con Dao's demonstrated commitment to sustainability has also been recognized as one of the world's top eco lodges by many leading publications. Directly in front of the resort is a prime habitat and feeding grounds, the only place where protection is enforced for the small marine population that resides around Con Dao Islands.
Consistent with the resolve of the world-leading luxury hotel group, Six Senses Con Dao develops and invites guests to share the responsibility to offset carbon footprint, while still experiencing the total indulgence of "Sustainable Luxury".
Six Senses Con Dao works with ecologically minded suppliers to support the mission in making the resort virtually plastic free, maintaining clean ocean and land for the turtle nests, while educating local children with the weekly environmental and English class programs. There are programs in place to conserve energy, keep packaging to an absolute minimum, or to reuse and recycle. The resort manages its own reverse osmosis plant and crystal water refinery, producing high quality drinking water without the use of plastic bottles. An organic vegetable garden also supports self-sustained food and beverages in the resort, drastically reducing the environmental footprint.
Committed to sustainability and its obligation to the environment and the community, Six Senses Con Dao has a long-term plan to restore the surrounding nature to its pristine condition, and to enhance the guest experience by simply reconnecting with nature and the world around them, starting with the precious sea turtles.
(*) Source: Con Dao Park officially joins IOSEA turtle conservation network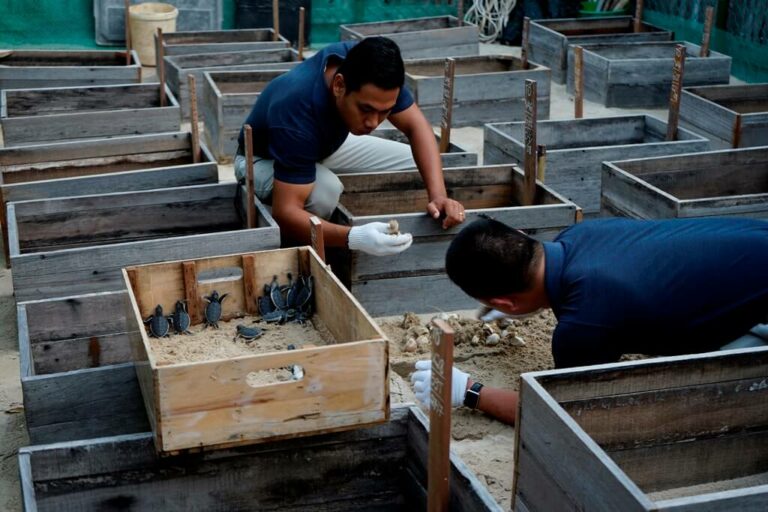 About Six Senses Hotels Resorts Spas
Six Senses Hotels Resorts Spas is one of the world's leading operators of luxury hotels, resorts and spas, managing 18 hotels and resorts across 14 countries, plus 37 spas under the brand names Six Senses, Evason, Six Senses Spas and Raison d'Etre. There are a further 17 hotels and resorts signed into its development pipeline. In February 2019, Six Senses became part of the IHG® (InterContinental Hotels Group) family of hotel brands.
Six Senses properties share a leadership commitment to community, sustainability, wellness and design, infused with a touch of quirkiness. Whether an exquisite island resort, mountain retreat or urban hotel, the enduring purpose is to help people reconnect with themselves, others and the world around them.
Six Senses Spas offers a wide range of holistic wellness, rejuvenation and beauty treatments administered under the guidance of expert therapists in all resorts as well as at 16 additional standalone spas. The high-tech and high-touch approach guides guests on their personal path to well-being, taking them as deep as they want to go.
Six Senses Residences provides the best life has to offer. From beautifully-appointed villas on the beach, rustic chalets in the mountains and spacious urban hideaways, Six Senses features a variety of residential choices in stand-alone buildings or attached to a resort or hotel. No matter the location, the promise remains the same and the commitment to create a community where every day revolves around learning and growing, great food and drink, innovative wellness programming, sustainable living – all mixed in with a lot fun.
Evason follows the Six Senses philosophy of uncompromised responsibility to sustainability and the community. Its two unique resorts provide a strong value focus, while offering a vast array of personal guest experiences that the whole family will love.
For further information, please contact:
Băng Trần (Ms Harmony)
Marketing Communications Manager
Six Senses Con Dao
T +84 254 3831 222
M +84 903 17 9990
E marketing-condao@sixsenses.com