SỰ SỐNG Shines Under The Six Senses Con Dao Moonlight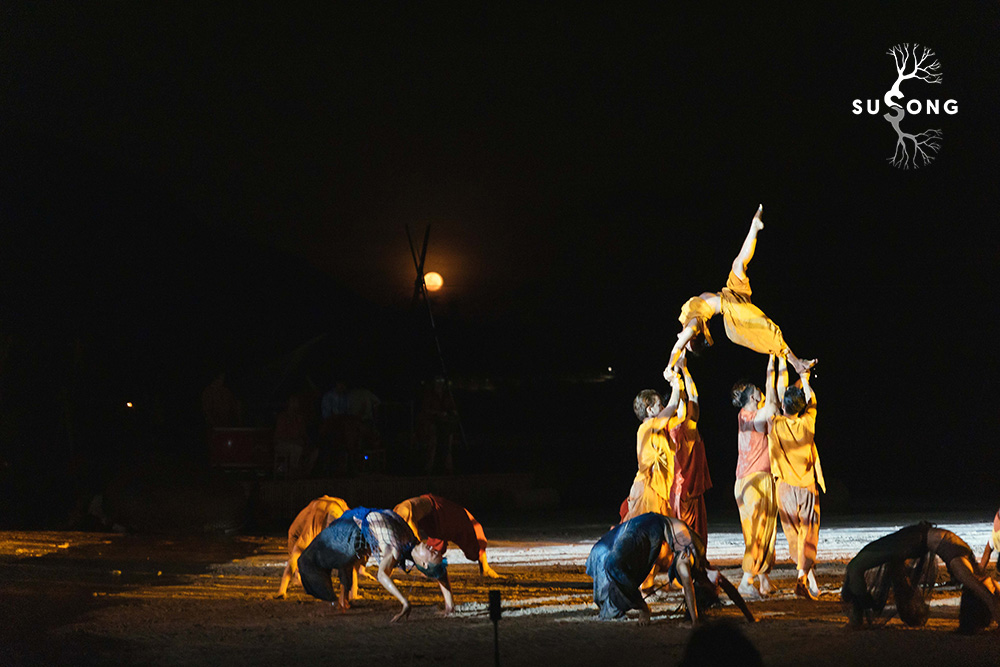 May 15th, 2023 –  SỰ SỐNG – A unique and innovative event was hosted at Six Senses Con Dao on the 4th and 6th of May 2023 to coincide with the full moon and low tide, where the beach was transformed into a sprawling stage that showcased several physical and musical performances and art exhibitions.
As the warmth of the Con Dao summer days cooled by the moonlit ocean breeze of the evening, a unique art performance was brought to life on the pristine beach of Six Senses Con Dao. SỰ SỐNG ( in Vietnamese or LIFE in English) is a symphony of human spirit and breathtaking nature designed to leave audiences captivated.  The event was organized for the first time by PDA & Partners in partnership with the cooperation and support of the Vietnam Federation of UNESCO Associations, and the Resources & Environment Newspaper. 
On the silky smooth sandy beach of Six Senses Con Dao, surrounded by the lush and imposing outline of Elephant Mountains, participants of the program were able to harness the authentic natural elements that make up LIFE: wind, sand, water… and embrace the rhythmic symphony between humans and nature. Like a jewel shining amidst the deep blue ocean, Six Senses Con Dao is enveloped by the majestic landscape where forested mountains meet the blue see. The harmonious blend of naturally sourced architecture in the style of a traditional Vietnamese  fishing village has bestowed a gentle and delicate beauty upon this magical place, enhancing the pristine landscape. 
Six Senses Con Dao was chosen for this event due to its reputation as one of the world's best beach Resorts (number 1 in Southeast Asia in 2021 by Travel + Leisure) and its unwavering commitment to conservation. Six Senses Con Dao is located in a private bay surrounded by National and Marine Parks within the Con Dao Archipelago. Among other sustainability initiatives the resort plays a key part in the local efforts to help conserve the endangered Green Sea Turtles who frequent the surrounding waters, a unique incubation program in partnership with the National Park Authority has has seen 19.430 endangered turtles hatched and released since 2018.
The event was planned and executed by a team of talented individuals, including Tuấn Lê – the Artistic Director, Lân Maurice Nguyễn – Creative Director, Tùng John, – Production Director, Tấn Lộc – Scriptwriter, Tôn Thất An – Music Director, Fernando Toma – 3D Visuals Director, Nguyễn Đức Phương – Art Director, and a range of more than 100 other gifted artists. Together, they brought their creative visions and ideas to life, weaving an intricate tapestry of art, music, and culture.
The wide silky sand of the low tide beach played host to a dazzling range of fascinating performances. Pole artists such as Nhật Nam Lê showcased their skills, while Highwire and Tightwire artist Laurence Tremblay Vu wowed audiences with daring performances. Cabaret Pole and Cabaret Standing Pole artists including Thu Thuỷ, added their mesmerizing performances providing guests with a true respect for the connections between life and mother nature's limitless beauty.
Following the memorable artistic performance under the glow of a stunning full moon, the audiences indulged in the exquisite culinary flavors of Six Senses Con Dao served at the award winning By The Beach Restaurant right on the foreshore. They were able to admire breathtaking works of art, the paintings specially created for SỰ SỐNG project by the artist Hai Tre from Lotus Gallery. This is a memorable artistic experience, as all the artworks were created during the artist's stay in Con Dao to sketch the simple yet magnificent life of this charming archipelago
Tran Le Bao Quyen, a world-renowned pianist, showcased her unmatched talent and beautiful compositions, moving the audience to feel every emotion along with each note. Tran Le Quang Tien, a music prodigy, showcased his mastery of the violin proving to be a future star of classical music.
The entire production was an excellent blend of traditional culture and modern technology, highlighted by the events 3D Visuals produced by Fernando Toma. His visuals added depth to the performances and provided a stunning visual spectacle that added to the mood of the overall production. Artistically designed by Nguyễn Đức Phương, the stage and surroundings added to the magnificence of the performance and left the audience breathless.
Experiencing SỰ SỐNG in Con Dao is an experience that one would never forget. This is a must-see for any luxury traveler that wants to experience culture, music, and nature in a single unique and beautiful performance. You'll leave with an unforgettable memory that you will cherish for years to come, and with performers and artists of this level, you'll be entertained by a symphony of human spirit and breathtaking nature.